Well today is a great Friday for me! Number 1 its foodie friday and I always love sharing recipes with you!! Number 2 I put my 2 weeks notice in at my job today to start a new career path with a new hotel. I am extremely excited about starting a new job and what fun surprises it will hold. Its also a beautiful day outside and I have a weekend filled with nothing coming up so I am just an all around happy camper!
On to the recipe today...because I am in such a good mood I think I am going to share with you my family's icecream recipe. Nothing fancy or anything but its a family recipe so Im happy to share it with you. This actually comes from my Grandpa who would make the eggnog variation each year for Christmas. I loved it and love to make it around Christmas time. I have a cuisinart ice cream maker that I love and recommend you get one too! I wish I had gotten a colored one but mine is just silver. So here is the recipe
Paul's Famous Homemade Ice-cream
(Paul McCormack recipe)
Servings: 4-5 quarts Prep Time: 15min Freeze Time: per ice-cream maker Difficulty: Easy
Ingredients
• 2c sugar
• 4 large eggs
• 1 can Eagle Brand condensed milk
• 1quart heavy cream (not whipping cream)
• 1tsp vanilla (can be substituted for any flavor)
• Enough whole Milk to fill Ice Cream maker (can be substituted with egg nog)
Instructions
Put sugar in a large mixing bowl. Make a volcano top in the sugar and add eggs. Beat eggs until blended and continue to work in the sugar. With mixer running, add condensed milk slowly until fully blended. Add vanilla any time. Add heavy cream as you continue to mix until thoroughly blended. Pour mixture into freezer and add whole milk as required. Stir to blend before closing freezer.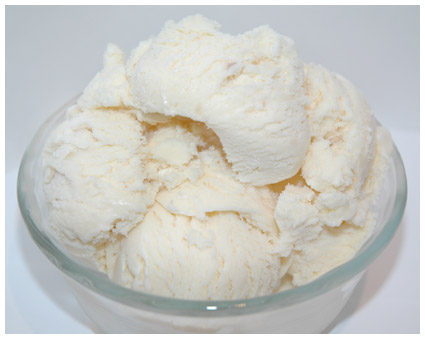 Yum Yum! I have been craving icecream all week, I think I am going to make some this weekend! What awesome recipes do you plan to make this weekend?
Project Housewife Out!
Im Linking Up! Come visit me at
Add A Pinch
,
A Bowl Full of Lemons
,
Made Famous By